WALL TO WALL CARPET CLEANING!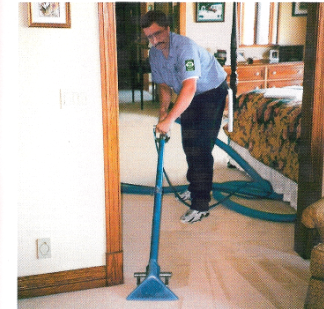 Mister Natural Cleaning Services utilizes the powerful Bane Clene Truck Mount Steam Cleaning System. Our equipment is recommended by over forty of the leading manufacturers of Stain Resistant generation carpet, including Monsanto, DuPont, and Amoco Companies. Unlike many dry or chemical type cleaning processes our system will clean the entire carpet fibers safely. We do not leave any heavy powders or chemicals in your carpet as do other methods. Since up to 95% of the solution is extracted into our recovery tank, the carpet dries quickly and without swelling the backing.



ADVANTAGES OF OUR CARPET CLEANING SERVICE
There are no hidden charges!
All of the following are included with our service:
A preconditioning treatment is applied wherever it is needed. (Many companies will charge an additional $.25 per square foot.)

Special spotting agents are used on difficult spots.

Our Experienced Service Technicians will carefully move any furniture they can safely move. After our cleaning, a protector card or block is placed under the furniture.

Most carpets can be groomed with a carpet rake. This process lifts the carpet fibers and can remove most pet hair.

Paper Runners are placed on all your room entryways, so you can use your carpets immediately.

Quality Workmanship is Guaranteed.
Notes:
Our system cleans Berber carpets exceptionally well.
For High Rise Custmers; Our cleaning units can be dismounted to accommodate you.
CARPET GUARD SPRAY PROTECTION
The advantages of carpet protection:
1. If a spill occurs, you will have a better chance to wipe and remove it without permanent stains occurring.
2. When your Carpet is professionally serviced, you will notice better cleaning results, than had the carpet not been protected.
We offer 3M Brand Scotchgard carpet protection.
Professional Furniture Cleaning
All of our company vehicles are equipped with two methods of furniture cleaning.
Steam cleaning can be used on durable fabrics. Dry Cleaning is available for the more delicate type fabrics. The service technicians will thoroughly inspect the furniture fabric and the recommended cleaning code. They will then make a knowledgeable decision on the proper cleaning method.
Both processes include:
1.
Pre-vacuuming when necessary.
2. Pre-conditioning treatment application.
3. Fabric is gently brushed to loosen the soil.
4. The soil and solution are removed directly into our machines recovery tank.
Fabric Guard Spray Protector  is available to assure maximum soil resistance. The advantage of the fabric guard are identical to that of Carpet Guard Protection.
* An Additional charge is applicable.